When a five-time Paralympic gold medallist and two-time world record holder mentions your name on stage to celebrate your achievement, you will most definitely feel a sense of pride.
That's how Shrivaths felt when Singaporean Paralympic champion swimmer and former Nominated Member of Parliament Yip Pin Xiu singled him out to acknowledge his breakthrough PSLE Chinese result.
"Shrivaths you have improved four grades in Mandarin. Not to compare, but that's way better than me, and I'm supposed to be like a native Mandarin speaker," Pin Xiu said while on stage at the MindChamps Champion Mindset Awards in 2020.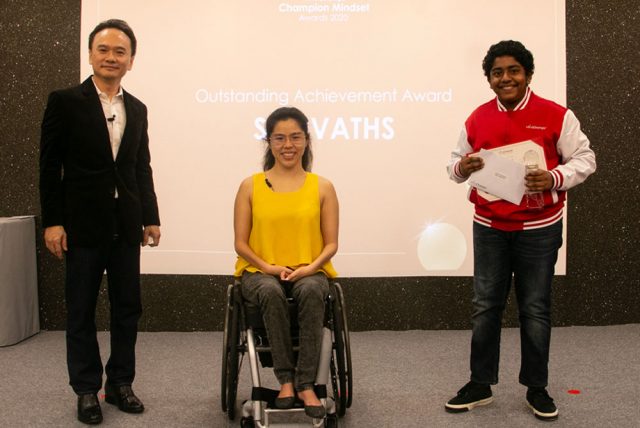 Pin Xiu is known for her trail blazing achievements as a Paralympic champion on the world stage, so impressing her is no easy feat.
With that in mind, Shrivaths' breakthrough performance at his PSLE – jumping from a U grade to a B for his PSLE Chinese was something that really impressed her.  And she recognised this by specifically mentioning him to highlight his achievement at the awards ceremony.
Rewind to early 2020, it was a totally different feeling for Shrivaths. He had scored a U for Chinese in his school exams and was in danger of failing the PSLE Chinese.
This greatly affected his confidence.
With time not on his side, Shrivaths had to quickly find a way to turn things around.
Fortunately, he found his way to MindChamps Enrichment Academy, and the trainers here equipped Shrivaths with new learning techniques and the Champion Mindset to prepare for the PSLEs.
Beside learning what was needed to score well, Shrivaths also gained newfound confidence from the trainers' encouragement.
"Before I joined MindChamps the learning was like the teachers will just share the topic keywords etc and move on that. But then in MindChamps, they give a very specific meaning to everything.  And they make the learning fun. They address all your questions, and they answer all your queries. They also gave me tips to help me in secondary school and beyond," Shrivaths elaborates.
All these contributed to Shrivaths making that breakthrough and jumping four grades for his PSLE Chinese from a U to a B.
Congratulations on your breakthrough results Shrivaths!
At MindChamps Enrichment Academy, we not only teach you the art of learning, we also equip you with a mindset what will give you the edge in school and life. Find out how our programmes can support and enhance your child's preparation in each PSLE subject.
Read also:
2021 Changes to the PSLE Scoring System
Jumping from Ds & Es to As in the PSLE, 3 Students Share Their Stories
Written by Huang Ya Ting