2020 will always be remembered as the year of the pandemic. COVID-19 has affected our lives too profoundly for it not to loom large when we review everything that has happened this year.
Nevertheless, we are sure that your year must have had its share of bright spots and happy occasions too! Perhaps you got to spend more time with family, build stronger ties within your community or reconnect with long-lost friends. Life goes on, and a year like 2020 makes it even more important to celebrate personal milestones and achievements.
In that spirit, we would like to present you with our year in review – a recap of all the biggest moments for MindChamps this year. Despite the challenges 2020 has brought, we remain committed to filling gaps in education and nurturing the power of human potential for a better tomorrow. Join us as we look back on the year that was and revisit our most significant milestones of 2020.
Read also: 5 Family Bonding Activities for an Unforgettable Countdown to 2021
1. MindChamps 2.0 debuts with a new HQ in Marina Square
There may still have been two days left to 2019 when this particular milestone took place, but our 2020 year in review definitely has to kick off with our 'Great Move'. After years of calling HDB Hub in Toa Payoh home, we initiated the first phase of MindChamps 2.0 by relocating our corporate headquarters to Marina Square.
The expansive fourth-floor space is almost double the size of our previous headquarters. It also houses our revamped Snyder Theatre and classrooms for our suite of enrichment programmes.
It was a great way to usher in the new year and demonstrate our commitment to building a bigger and better MindChamps for one and all!
2. MindChamps is recognised for its organisational excellence once again
It did not take long for MindChamps 2.0 to get off to a flying start. Just a few weeks after we moved into our new headquarters, we made the list of Singapore's 50 Fastest Growing Companies for the second year running, clocking in at number 41.
The accolades continued in April, when we were named by The Straits Times as one of Singapore's Best Employers 2020, and by Financial Times as a High-Growth Company in the Asia-Pacific region.
Most recently, we were also conferred the honour of Inspirational Brand (Education & Training Industry) at the Asia Pacific Enterprise Awards.
3. We make a successful transition to home-based learning during the Circuit Breaker
Schools and enrichment centres across Singapore were thrown a giant curveball when they were ordered to shut as part of the government's preventive Circuit Breaker measures. We were certainly no exception.
With the Champion Mindset, however, we were able to bounce back quickly and ensure that there would be as little disruption to our Champs' learning as possible.
Our preschool and enrichment classes went completely online. Our teachers and trainers received special training in facilitating the virtual learning environment. The entire MindChamps team also came together to adapt our preschool curriculum into weekly home-based learning activity guides that we later made freely available online!
4. Our PSLE Success Online programme launches
While most enrichment centres only made temporary arrangements for online learning during the Circuit Breaker, we recognised that some parents and students might prefer to continue with it even when face-to-face classes were allowed to resume.
Enter our PSLE Success Online programme, the first of our enrichment programmes to make the full offline-to-online transition. We kept our research-backed curriculum and progressive learning model, but also added complimentary 1-to-1 coaching sessions to help with concept formation and content mastery.
It was the best of both worlds for our Champs, who could enjoy both group interaction and individualised attention from the comfort of home.
Read also: 5 Reasons Why Online Learning Can Still Benefit Your Child in the New Normal
5. Welcoming our Champs back to our centres post-Circuit Breaker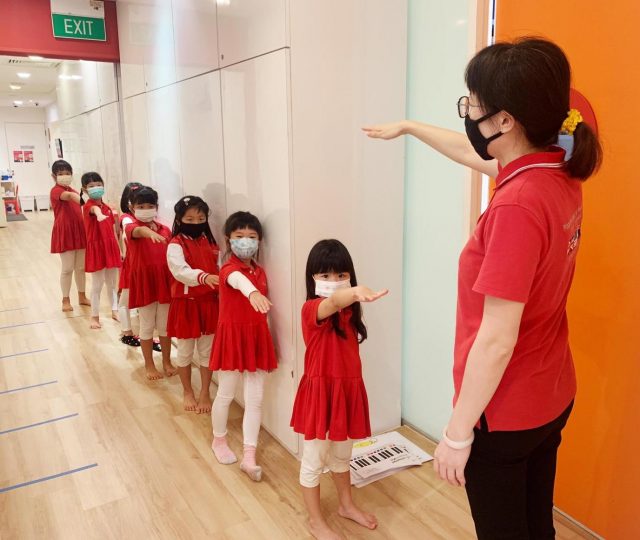 What an unprecedented year this has been, for an event as mundane as going back to school to make it onto anyone's year in review shortlist.
But we missed having our Champs around so much that we just had to add their return to our centres and classes into our roundup! As we went about taking temperatures and wiping down surfaces, the smiles beneath our firmly secured facemasks never wavered even for a minute.
The health and happiness of our Champs remains our number one priority. Even as Singapore moves into Phase 3, we will continue doing everything in our power to maintain a safe and conducive learning environment.
6. MindChamps Performing Arts PreSchool opens
On 27 July 2020, a vision years in the making was finally realised. The first-ever MindChamps Performing Arts PreSchool opened its doors to students at our Concorde Hotel centre.
Offering an unparalleled level of immersion in music, dance and drama, the Performing Arts PreSchool was conceived with the aim of arming young minds with the ability to create something out of nothing. The fact that they have a lot of fun in the process is just the icing on the cake!
We also wanted to help debunk the myth that the performing arts are only for budding musicians, singers, dancers and actors. Our Performing Arts PreSchool is open to all preschool-age children, regardless of aptitude or skill level.
Read also: 4 Ways the Performing Arts Can Help to Prepare Your Child for Primary School
7. We celebrate the opening of our 39th and 40th preschool centres at Temasek Club and Sentosa
In a year filled with challenges, we count ourselves fortunate to have still experienced sustained and consistent growth. Two new centres joined our MindChamps PreSchool family in 2020, both of which are tucked away in accessible yet idyllic corners of Singapore.
Yes, we know all of our centres are technically on an island, but our Sentosa Champs get an unique opportunity to experience island life. They are brought on spontaneous nature walks, outdoor learning journeys and even trips to the S.E.A. Aquarium.
As far as amenities and local sights go, our Temasek Club centre has plenty to offer too. Champs get access to swimming pools and tennis courts on-site and the lush, green slopes of Bukit Timah Hill just next door.
8. All aboard the new partnership between MindChamps PreSchool and Dinosaur Train
We could not be more excited about the opportunity to collaborate with the makers of the highly acclaimed, Emmy-nominated animated series Dinosaur Train. Because, really, who doesn't love dinosaurs?
Under the terms of our partnership, MindChamps and Dinosaur Train will work together to create engaging and interactive online lessons for homes and classrooms throughout Asia, Australia and New Zealand. These lessons will incorporate both our breakthrough research-based curriculum and Dinosaur Train's adorable cast of prehistoric animals.
It looks like things are about to get much more Jurassic at our preschools in the near future!
9. Our 2020 PSLE Success graduates outdo themselves
At MindChamps, we have always believed in celebrating every student's potential and personal breakthroughs. This is why we are particularly proud of what our PSLE Success programme graduates have achieved this year.
Altogether, 98% of our PSLE cohort experienced at least a one-grade improvement at the 2020 PSLE, or maintained a subject grade of A. 60% improved three grades or more, an increase of 25% from the 2019 cohort. Two Champs even surpassed all expectations to improve by a whopping five grades.
Congratulations once again to each and every one of our graduates!
10. MindChamps Music is rolled out in our preschool centres island-wide
We started our year in review with a milestone brought over from last year, so it's only fitting we end it with one that looks forward to the next. In 2021, the groundbreaking MindChamps Music (MCM) programme will become a core component of our preschool curriculum.
Based on over 20 years of pioneering work by our Dean of Music in Education Professor Larry Scripp, MCM is a revolutionary programme that integrates music, movement and creative elements to simultaneously enhance children's development on multiple fronts.
MCM had previously been piloted at a handful of centres, but the impact on our Champs was so phenomenal that we decided it was time to implement it on a much wider scale.
That's a Wrap on Our Year in Review!
In 2021, we hope to bring our 3-Mind education movement to even more children through our preschool and enrichment programmes.
Want to learn more about what makes MindChamps tick? Visit our PreSchool and Enrichment webpages, or drop us a line here.
Written by Leslie Wong