During the Early Childhood Conference 2019, Minister Desmond Lee spoke on the benefits of outdoor learning and how this affects the development of children.  Mr Lee also outlined certain changes some preschools would be implementing in the 2020 curriculum to factor in the time preschoolers spend on playing and learning outdoors.
While some childcare centres are studying how outdoor learning can be enhanced, some of the best preschools in Singapore have already included elements of outdoor learning in their syllabus for a while now.
One great example is MindChamps PreSchool @ Punggol Northshore, which is located at the Punggol Marina Country Club. With a spacious outdoor area, outdoor learning is incorporated into daily lessons for the children.
Here, we give you a sneak preview of some of the outdoor learning activities that the teachers conduct with the kids during preschool hours.
An observational stroll around the neighbourhood
Our natural environment offers many opportunities for learning. Just a simple stroll around the neighbourhood can turn into a lesson for the children to learn about the world around them such as how trees and plants grow.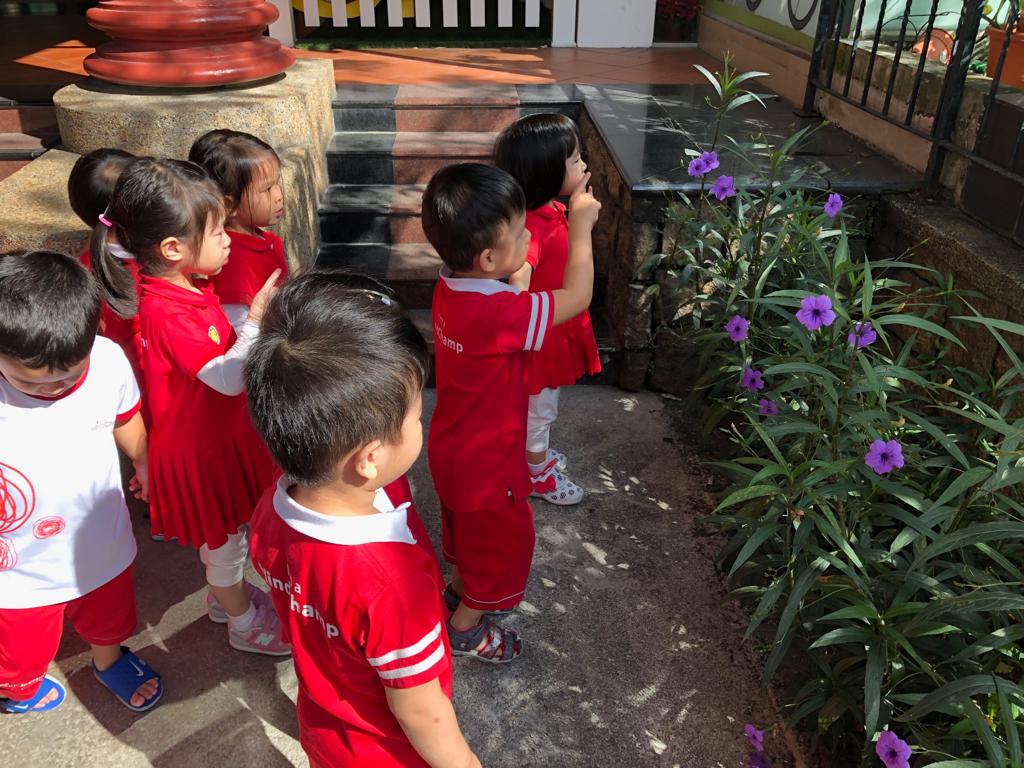 At this childcare centre in Punggol, children go on walks around the Marina Country Club to learn while observing their environment. Through activities such as counting flowers, they were able to identify their characteristics. They also practised linking numeracy to the real world by identifying terms like "big" and "small".
Through these interactions, children are taught to care for the environment and appreciate its beauty.
Read also: 10 Different Types of Play and How They Help Kids Learn
Making their own clouds to train motor development
At MindChamps PreSchool @ Punggol, lessons the kids go through in class are adapted to the outdoors to help them understand the concepts better.
For example, after reading Little Cloud by Eric Carle in the classroom, the teachers brought the children to the playground to observe the clouds and engage them in hands-on activities related to the story.
The children made connections between the clouds and the weather, and they got busy at making coloured clouds based on their weather of choice. They arranged cotton balls on paper and sprayed them with colours. This activity also promotes their hand-eye coordination and fine motor development.
Coordination through bubble making at this childcare centre in Punggol
Some of the best preschools in Singapore incorporate outdoor play into their curriculum as it aids with movement and coordination. Being outdoors enhances their range of movement as they skip, jump, hop, etc.
During another lesson, the children tried their hands at bubble printing, which also trained their coordination as they tried to catch the bubbles. They also made observations of cause and effect upon blowing soap bubbles through their straws.
A mixture of emergency drills and fun games
Although Singapore is not prone to earthquakes, we can still feel tremors from big earthquakes in neighbouring countries. To help the children better understand why earthquakes happen and what to do when they find themselves in the middle of one, an earthquake drill was conducted to give them hands-on experience. Through the drill, the kids learnt how to work together while training their motor development.
Tapping on teamwork
During another outdoor activity, kids went for a walk and learnt to play the "tap" game. Through this exercise, kids learnt to follow instructions and work as a team.
The "tap" game also served as a great tool to teach kids about what it meant to show great sportsmanship – and that it is alright even if they don't win the game.
A little competition is healthy for the kids, as this motivates them to give their best and form relationships with the people around them.
Read also: Top Tips to Secure a Place in a Childcare Centre for Your Child in Punggol
These are just some of the ways in which teachers at MindChamps Punggol incorporate outdoor time during their lessons. As with other MindChamps PreSchool centres, lessons are conducted using the Enquiry Teaching and Learning™ approach where teachers listen to the kids and constantly adapt their lessons to according to the kids' interests. This helps to keep things fun while the kids learn something new, every day.
Written by Steffi Wee
Find out what our Champs and teachers get up to during the day at MindChamps PreSchool @ Punggol.