Deciding on a preschool that is suitable for your young child is a mammoth task. With so many preschool choices available near workplaces and residential areas, poring through pages of reviews and visiting the schools to see if there is a right fit is part of the process that most parents go through. Families living in the North who are searching for a preschool may wish to consider MindChamps PreSchool at The Brooks II in Sembawang.
Located a stones' throw away from Springleaf MRT station (Thomson-East Coast Line), our newest centre makes it convenient for families living in the tranquil Springside estate and the surrounding neighbourhoods.
With nature parks located nearby and the availability of natural learning spaces that promote sustainability, our Brooks II centre provides ample opportunities for children to play, learn and explore close to nature.
We checked out the centre and had a chat with Ms. Linna Woon, the Centre Director of MindChamps PreSchool @ The Brooks II, on what our preschoolers and teachers get up to on a typical school day.
Read also: Teacher-Child Ratios in Preschools: What Do They Mean and What Is An Optimal Number?
What You'll Love About MindChamps PreSchool at The Brooks II in Sembawang
1. Conveniently located and close to nature
The strategic location of this preschool at The Brooks II in Sembawang provides teachers and children with easy access to public nature parks and wildlife attractions. For example, Springside Park, Springleaf Nature Park, Upper & Lower Seletar Reservoir, The Live Turtle and Tortoise Museum of Singapore and the Singapore Zoo are all within close driving distance to the centre.
This makes it easy for teachers to complement their classroom lessons with outdoor excursions to places where children can discover a new environment and observe Singapore's wildlife up close.
2. Conserving resources with energy-efficient equipment
In line with the preschool's aim of being eco-friendly, everything in the centre is carefully chosen to be energy efficient.
Besides using air-conditioning systems and LED lighting, MindChamps PreSchool @ The Brooks II comes fitted with huge window panes to allow sunlight to filter in. This reduces the need for excessive indoor lighting during the day.
To keep the indoor air at a clean level for children and staff, you can find top-range air purifiers in the classrooms as well.
3. Emphasising the importance of being ecologically aware
To further instil the importance of conserving the environment in children, Ms. Linna has decorated the centre using plants with natural air-purifying properties, like the yellow flame.
Upcycling practice at the centre is visible through the decorations in display in the classrooms. Some examples include magazine holders made from carton boxes, a snake made from toilet roll cores and insect shapes cut out from magazine pages.
And to incorporate the "farm-to-table" experience, children get to grow their own herbs at the centre's eco-garden too. These will be then harvested and used to whip up healthy dishes during the Gourmet Moments™ enrichment classes.
4. Excursions to places that promote the appreciation of flora and fauna
Excursions complement the lessons at MindChamps PreSchool at The Brooks II in Sembawang. Children will be taken to places like Qian Hu Fish Farm to learn about underwater creatures and to the Singapore Zoo to learn about animals living on land.
This preschool in Sembawang also goes a step further provide opportunities for young children to learn about sustainability and urban farming. An example is a planned excursion to Pocket Greens, where they will be introduced to urban farming as well as the importance of reducing food wastage. There, they will get to assemble their own terrarium.
5. Spacious indoor play spaces at MindChamps PreSchool at The Brooks II in Sembawang

Recognising the need for children to expend their energy, the centre has plenty of large spaces for children to be active in. One of them is a large playroom for days when the weather does not permit outdoor play.
The centre also comes with a fully equipped Mind Gym which spans 800 sq ft, where the NeuroMooves™ enrichment programme is conducted weekly. This Mind Gym doubles up as a play and performance area for the children.
6. Classrooms with en-suite bathrooms
Perhaps the most unique feature at MindChamps PreSchool @ The Brooks II is its en-suite washroom and shower area for each classroom, which differs from the norm of a communal shower area across all levels.
Without the need to share facilities across levels, there is no need to stagger shower timings. Children also learn to be responsible for keeping the bathroom clean after use.
7. Instilling good values from young
Besides providing preschoolers with enriching learning experiences, we also emphasise on character-building. The purpose is to nurture good life values and to bring out the best in them. At our preschool centre in The Brooks II, not only do children learn these values through lessons, they get to experience them through hands-on activities too.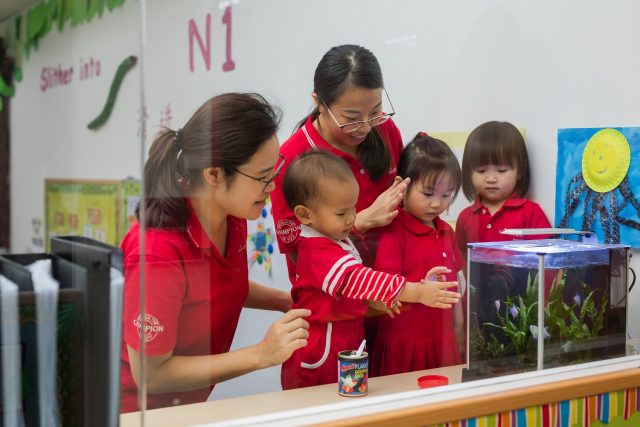 One great example shared by Ms. Linna is how teachers introduce class pets to the children, such as a tank of fish and terrapins. Children will then be assigned specific tasks that they need to do every day in order to care for their pets and see that their needs are met (e.g. food and water).
Through this, our little ones learn the true value of responsibility and what it takes to care for others. Much like how their parents and teachers care for them too.
Read also: Childcare Centres in Singapore: Is Bigger Really Better?
"Not building a school, but a family"

This phrase perfectly sums up what Ms. Linna firmly believes in.
"Because all our Champs, parents and teachers make up the MindChamps family," she explains.
As teachers focus their efforts on delivering our research-backed curriculum, the centre also works closely with parents to get them involved in their children's learning journey. After all, nothing is more powerful than to have mums and dads support their little ones as they work to establish the foundation for learning.
MindChamps PreSchool @ The Brooks II is more than just a school – it is like a second home. A home where the learning and well-being of the children remain at the heart of what they do.
Written by Jamie Koh